The Original Muffpot
Imagine, a quick and convenient way to have a hot meal on the cold trail. Simply attach the Muffpot stainless steel cooker to your exhaust, and enjoy your ride while your meal cooks!
The Muffpot can be a cooker or warmer, depending on how close it's placed to the engine. The closer it is, the hotter it cooks, up to about 218 C (425 F), or between 82 and 93 C (180 to 200 F) if placed on the clamshell. Cooking time and temperature vary depending on the vehicle, and how long and hard you've been riding. Our customers could not have said it better... "Ride it like you stole it"!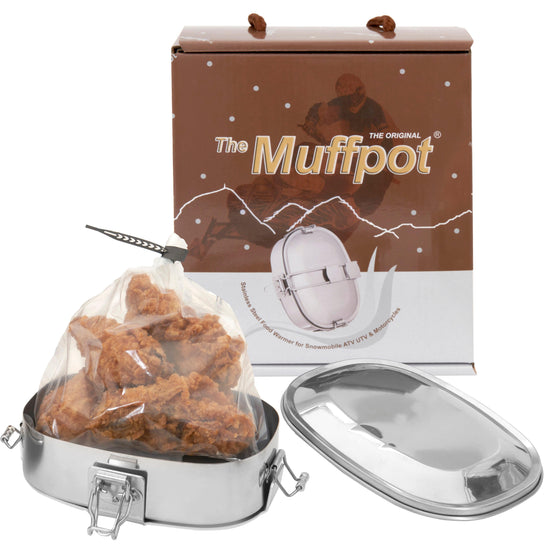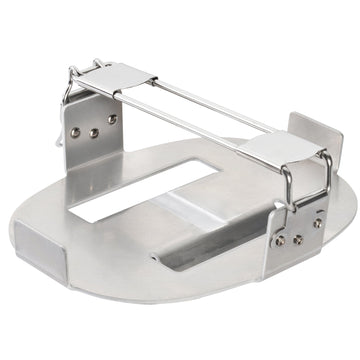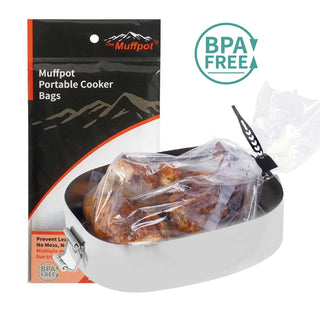 best snowmobile cooker
Snowmobile Muffpot
The Original MuffPot Snowmobile & UTV Food Warmer - Made from Food-Grade Heat-Resistant 300 Stainless Steel for Cooking Hot Meals on ATV, UTV, and Motor Sled Mufflers or Exhausts.
Buy Now
Learn More
Elevate Your Outdoor Cooking Game!
The Muffpot
Don't settle for stale and cold grub. Get the original Muffpot and be the hero of your next trail adventure by serving well prepared sizzling hot food every time you and your buddies stop to catch your breath!
Buy Now
Our Customer Feedback
Works awesome, cooks everything that will fit in it. Just wrap up really well. And be careful when opening. Very hot. Cooks hot dogs and Mets very well. And little smokies with barbecue sauce.

Brenda
Love my muff pots been using them for years and don't go a ride with out putting some food in it!

James V.
Muffpot fits perfect on my rmk 600. Well made and gets plenty warm. Only used 3xs so far but sure is nice to have a hot meal (beef stroganoff, hot links,peppers &tortillas2xs) as opposed to sandwiches during a full day of snowplay

Skinny
This product even fit next to my y pipe on a 2018 Pro RMK Assult 800. First meal was smokies and bbq.

Larry Kincaid
Awesome.
Put some cocktail wennies in foil (still in the plastic pouch) and rode for 20-30 min.
Nice and hot.

Paul G
Hot food at the top of the hill in Glamis. Baking bags and some foil around them are your friend if using this on a UTV exhaust.

J. Fleming
the person I bought this for loved it, it works great on the snomobile exhaust, holds a good quantity of food and is secure

Tami Shaul
Purchased this for my sled head bro. He's used it once and the hot dogs were great. The harder you ride the hotter your dogs. So ride it like you stole it!

Joe
Quality of product is excellent. Good seal on container. Works great. Customer service from The Muff Pot manufacturing company goes above and beyond. Fantastic service. I will use them as long as I'm in powersports.

Amazon Customer